Arnie Says: "It's not a tourist!"
| July 19, 2015
Might have to buy myself one of these.
When i first went to Japan in 2003, it was as a tourist. IT was post 9-11, and our school trip the year before was cancelled. Since most of us were at the end of the line and wouldn't be around for the next trip, we planned our own touristy trip through the school. We spent 10 days going to temples and museums, and even went on a tour of Sharp's R&D building. We also went to a car dealership (so began the stupid tourism).
I don't remember doing a lot of planning or prep for this trip. Obviously that was done, since we have a charter bus and a tour guide for part of the trip, but I don't remember a lot of personal prep. We did some fundraisers and had to buy currency, but aside from that and packing, I really don't think there was much else for us to do. We were only gone for 10 days, so we didn't need to get visas or notify our banks. We didn't need to really do any logistical things because we would be back in Canada in a week and a bit.
When I returned to Japan in 2009, it was as an exchange student to attend Kansai Gaidai. This trip had tons of prep. Since I was going to be gone almost a year, there were a lot of affairs to get in order. I had to sort some things out with my school, I had to notify my bank of my departure. I even completed my first will and had to decide on a power of attorney. But among all this, I was still going to be coming back to Canada inside the year. I needed to make sure all my ducks were lined up but if anything happened, I was still coming home. If something really truly went wrong, I just had to hold out until the summer. If I ran into trouble, my dad could just drop some money into my account.
Now, in 2015, I am returning to Japan for a third time, and under a third set of parameters and conditions. This time around, I'm not a tourist or an exchange student. I'm not traveling to Japan. I'm moving to Japan. I don't have a return ticket (I didn't when I went to Gaidai either, but that was because I couldn't get a return that early). I don't have a departure date. That's very important here.
Perspective
I am crushing your head.
There is a notable and significant shift in perspective that I am making with this trip. No. Move. As a tourist, there is a certain way to do things. You follow this or that advice you read about, and go about trip planning as a tourist would. As an exchange student, I had to step that up a bit, but I was still doing tourist-level planning. Like I said, I would be back in Canada within a year. If I forgot something at home, it wasn't a big deal. If I missed something, I could fix it later.
Later. That's a good work here. This time I'm moving. There isn't a later right now. Even though my contract starts at one year, I don't plan to return to Canada should it not be renewed, unless something serious happens. If I'm, not a JET, I hope to find work elsewhere so I can spend some time in Japan getting back on my feet and building a career. So for me, there is no later. If there's a problem, I can't fix it later. I'm moving to another country, and that takes a shift in perspective to make sure everything lines up right and to make sure I and those around me understand what this move is.
Be Prepared
I do NOT remember Scouts being like this.
I spent a lot of years in Scouts and my dad continues to do maintenance on a Scout camp, long after my brother and I left the organization. The Scout's motto (as well as that catchy jingle from the Lion King) will probably haunt my dreams until the day I die.
Be Prepared.
I can't think of a better phrase to sum up moving to another country. I keep seeing all these completely and miserably stupid comments from other JETs about not bringing enough money, not wanting to plan for this or that, or not shifting their perspective and thus not being prepared for this move.
You cannot approach JET, Interac, ECC, or any other kind of employment as a tourist; you are just setting yourself up to fail. You simply cannot prepare the same way as a tourist does. You have to shift your perception to understand that you are moving (not traveling), and then need to become prepared for that move. You have to make decisions that support moving, not based on tourism.
So while I'm be bringing every stick of Old Spice deodorant I can fit in my bag, I need to prepare myself for the time when I have to start buying local products again. I have to prepare myself to start cooking differently, using different ingredients and eating different foods. I have to bring enough learning aids and novels with me, since English language books stores are uncommon. I am moving, and have to be prepared for that move, just as I would prepare for a move in Canada or another country.
Expatriotism
In 200 metres, keep right at the foreigner.
Just as I need to shift my perspective, I need to shift my identity. In two weeks, I'll be traveling to Tokyo, and in less than 3, I will be moving to Hokkaido. Even when at Gaidai, I still identified as a traveling Canadian. Although I actually was an expatriate (someone of foreign citizenship residing in another country, I didn't identify as one. I was only there for 9 months or so.
But again, the beat that dead horse, this is a move and I don't have a return date in mind. In about 2 weeks, I will be an expat. I will be a Canadian living in Japan. I will be a foreign national. I need to change the way I think about Canada and the way I live.
I will need to pay more close attention to the issues facing foreign nationals. I will be out of Canada so long that I will not be apart of cultural phenomena. I will not see the majority of my political supports. Heck. I'll be voting by proxy for the first time. I will be living away from my friends and family on such a level that I may not see them for a very long time. I haven't even met my niece yet, and that's not likely to change until she is much older.
I will be living a different life. I will not be a temporary resident (well, yes, but you hopefully get my point). This isn't a road trip to Japan. This is almost my identity now, and I need to come to terms with that. I need to change how I view myself, my citizenship, and my identity, because clinging to a tourist's thinking is only going to hurt more and stunt my time in Japan.
And the moral of the story is…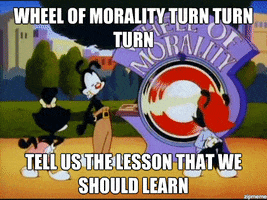 Moral number 6…
As a JET, or as any other foreign national taking work in Japan (or anywhere else), You have to understand and come to grips with the fact that you aren't a tourist. You have to realize that you cannot continue to do things the way you are used to. You have to change, and you have to be prepared for that.
---